"…Our experience building a new house was a wonderful adventure with most of the credit owing to our talented architect, Jeff Gold. He guided us through the process with incredible sensitivity, intuition and artistry. He produced a design for our front door and a sand-blasted glass divider, two pieces of art that are wonderfully unique and perfect for our home. He fit an incredibly complex and interesting "footprint" so perfectly into the building site that it is now difficult to imagine any other way it could be…"
Lance and Joan Goddard
"…The home Jeff Gold designed for us turned out to be a perfect interpretation of what we had in mind, even though we could not always convey that vision to him verbally. But the connection was made and the results are beautiful! It's been three years now since we moved in, and we have hardly taken a vacation. There isn't any place we'd rather be than right here. Would we do the whole thing again, just to experience the fun of it all? You bet!"
Jack and Pat Minch
Wilson entry door
"…Planning and building our home was one of the highlights of our life. Jeff had a talent for putting our requests into reality… Our home is everything we dreamed it would be. It works for entertaining crowds or enjoying solitary activity. It is spacious yet full of cozy corners. The outdoors is always visible, satisfying our love for nature. It is our peace, our "castle"."
Marilyn Wilson
"…Thank you for creating this work of art! I treasure all the beautiful details you designed into my new home, and the peaceful water garden that surrounds the house. Many visitors over the years have commented to me how harmonious my home feels in its setting, and that the spaces within have a "healing" quality…"
Helen McDonald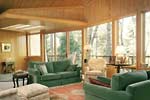 Palley living room
"…We want to thank you for a job very well done in the design of our home addition and remodel…I believe you understood our preferences and living needs very well. This allowed us to feel part of the creative process, and we enjoyed this greatly…Others might have imitated the original house's style, but I believe you comprehended its spirit, and this gave you the ability to extend it innovatively. Your integrity, commitment, artistry and attention to detail throughout the project were wonderful!…"
David and Linda Palley
"…Working with Jeff Gold as our architect was a thoroughly pleasurable and rewarding experience. His taste and aesthetic were well matched to our own, and more importantly, we found him to be both intuitive about our needs and attentive to our wishes…. It is now six years since the completion of our project and we continue to be delighted with the beauty and simplicity in each place where Jeff has left his mark…"
Charles and Gail Entrekin
"…We wished to develop a home that would provide maximum light and exposure to the surrounding gardens and views. We wanted our home to reflect our enjoyment of Asian Art and our love for precision and detail. We asked for warmth and comfort in a home in which we could entertain. Jeff provided all this and more. The result was far more than we ever could have imagined. We were constantly amazed at his visionary capacity and, most of all, his dedication to our project…"
Stan and Donna Levin
"…You have made building our "dream home" a wonderful and rewarding experience. Your unique ability to analyze our lifestyle and aesthetic needs has far exceeded our expectations. You have created a home that is not only functional and beautiful to behold, but one that has been built to the most exacting of standards in a cost-effective manner…"
Ed and Anita Tortorici
"…The year that we spent with you was an absolute delight…Above all, we appreciated your ability to listen and respond at all stages of our house project. As a result, we got the design that we wanted: great light, dramatic common living space, perfect day-to-day living flow, and the right allocation of space. We were especially pleased with your ability to "fit" our house onto its site without removing a single mature tree. The word "professional" means many things to many people. To you it means always following through on what you say you will do, complete client discretion in business matters, constant commitment to quality, never rushing important decisions, and real artistry in design. We thank you for this and enjoy the fruits of your labor every day…"
Sue Gregory and Alan Weisberg