The Goddard residence is located on a heavily wooded hillside in the Sierra foothill community of Chicago Park. The site included a fully mature landscape with pond, large oaks and pines. An existing home in this setting was determined not worthwhile to remodel because of its condition.
The new home was knit into the old setting with a minimum of disturbance. The plan reflects the owners' desire for spaces scaled for entertainment as well as quiet times. An office with separate entrance supports a home-based therapy practice. An art studio is provided in a separate building adjacent to the pool. The faceted tower form in the center of the home contains the dining room at the lower floor and the master bedroom above. All spaces emphasize a visual connection to the surrounding natural landscape.
Finishes include cedar shingles and trim on the exterior and extensive use of douglas fir and cherry cabinetry in the interior. Custom design elements include an entry door, display niches, a glass etched decorative panel and interior casework.
Jeff Gold & Associates provided the architectural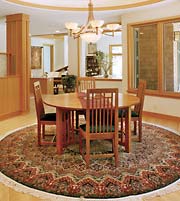 design, and Tru-Line Builders provided construction management for this custom residence, completed in 2000.