The Entrekin studio is located on the north slope of Cement Hill overlooking the South Yuba River. The building was designed as two adjoining studios for Charles and Gail Entrekin, both professional writers. The design includes a central space used for literary meetings and small group events. The studio is a short walk from the main residence and provides a completely private setting.
The building design incorporates some of the detailing and finishes common to the "Bay Area Shingle" tradition that the Entrekins were fond of during their years living in Berkeley. All exterior shingles and cedar trim where dipped in a clear, oil-based sealer prior to installation.
All interior spaces open to the northerly mountain view and river gorge. One of the studio spaces incorporates a small fenced garden. A half round window at the floor level gives the interior a focused view into this garden.
Design elements created by the architect include the entry door, composed of a solid core door which is modified with "rain glass" panels, overlay wood trim and paneling.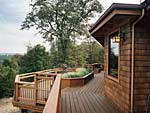 Jeff Gold & Associates provided the architectural design, and Erickson Construction Company was the general contractor for this project completed in 2000.