The Minch residence is located in the Stonebridge residential community of Nevada City. Prominent features of the site include a large cedar tree, rock outcrops, and a south-facing slope. Placement of the building was based on integrating these elements into an extensive terraced garden landscape that was an important part of the client's program.
The building design expresses the owners' love for craftsman style homes, fine woodworking details, and the timeless qualities of granite stonework. The exterior finishes combine shingles and stone, and brick edging at the patios. The interiors utilize douglas fir paneling and trim, and hickory cabinetry.
The plan incorporates an extensive library that is part of the common space. Cabinetry throughout the home provides plate shelves for display of their pottery collection. The primary living areas and master bedroom are placed at the ground level. Guest bedrooms are clustered at the upper floor level, with a reading room loft overlooking the vaulted living room.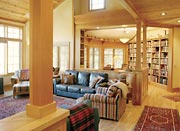 Jeff Gold & Associates provided the architectural design, and Jon Klingelhofer provided construction management for this custom residence, completed in 1999.