The Dover residence is located near Nevada City. The knoll top site is part of an old homestead, and the new residence integrates parts of the original home.
Al and Lynne Dover wished to incorporate the style of the original farmstead into their new residence. The architectural design utilizes the low-profile gable roof forms of the western ranch home. All living spaces are on one floor level, thereby allowing close connections to the surrounding landscape. Exterior finishes include horizontal cedar lap siding, stone, slate tiled patio terraces, and a trellis supported by hand-peeled pine logs gathered from the property.
The interior spaces consist of a "great room", incorporating living, dining and kitchen, private bedrooms, a library, and a home office. The common spaces embrace views to the open meadow, landscaping, pool and vegetable garden. Interior finishes include cedar paneling and trim, exposed structural beams, recycled mahogany flooring, slate tile at the entry, and mahogany cabinetry throughout.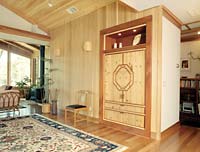 The climate of the site consists of hot summer days with a great amount of sun exposure and very cold winter temperatures due to the cool air circulating near the Deer Creek drainage. Special attention was given to energy efficiency and "thermal performance" by means of high levels of insulation, high-performance glazing, natural ventilation, thermal mass of a floor slab, and radiant heating. Solar panels are incorporated into the domestic hot water system.
Some custom design elements include built-in cabinetry, ceiling trim that frames the skylight openings, and wood grills for the hydronic heating panels.
Jeff Gold & Associates provided the architectural design, and Jon Klingelhofer provided construction management for this custom residence, completed in 2001.