The Johnson/Jordan-Wood residence is located north of Nevada City in a wooded hillside setting. The owners desired a home composed of natural materials that would be harmonious with this forest environment.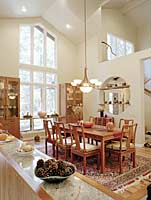 The program called for an open plan with a second floor multi-purpose room with office, workroom and guest quarters overlooking formal living, dining and kitchen areas. This design incorporates a large space, anchored at one end by a stone fireplace and at the other, by tall dining room windows that open up to the full tree canopy.
Exterior finishes include cedar shingles, local granite stone, green shingles and green clad window frames. Interior detailing consists of cherry cabinetry, slate and hickory flooring and simple bullnose edges for the drywall. The residence utilizes radiant heated floors. The thermal mass of the stone walls, the concrete slab floor, and numerous operable windows all combine to provide natural cooling during the summer months.
A separate garage and shop building were designed with a covered breezeway connection to both the front and rear service entry of the home. Some of the custom design elements include display niches, built-in cabinetry and use of stone wall slabs around the Aga cooking range.
Jeff Gold & Associates provided the architectural design and Tru-Line Builders the general contracting for this residence, completed in 2000.