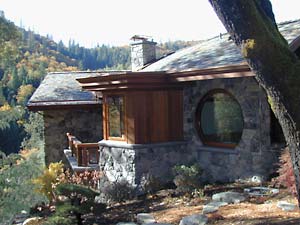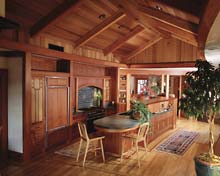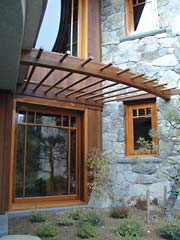 The Funk residence is located in the foothills of the Sierra Nevada Mountains, near the confluence of Rock Creek and the South Yuba River, north of Nevada City. The house site is steep canyon land that required careful grading considerations and the integration of the structure into the hillside. The architectural design consists of a hand-crafted home composed of natural materials that are in harmony with the wilderness landscape.
The program called for a home with informal living patterns, extensive outdoor patio and garden spaces,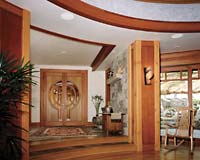 accommodations for guests, and a home office. The design contains two wings with radiused walls curving outward from the central living room. The two-story configuration creates a compact building "footprint" that minimized the need for grading and disturbance to surrounding trees. The building orientation optimizes passive solar heating, natural daylight, and exposure to prevailing winds for passive summer cooling. The home is heated entirely with a solar hot water heated radiant system.
Exterior materials include slate tile and copper roofing, native granite stone, cedar paneling, integral colored concrete, and mahogany doors and windows that were custom fabricated by a local millworks company. Interior materials consist of recycled mahogany for paneling and cabinetry, quarter sawn white oak flooring, slate floor tile and countertops. Large boulders for the walls and landscaping were gathered from the property, and the peeled logs for exposed framing elements were also locally harvested
A major element to the Funk residence is the principle of "sustainability". This called for using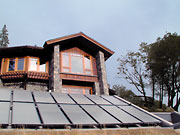 materials that were ecologically based, incorporating renewable energy sources. Natural, non-toxic interior finishes were selected for the interior: wool fiber carpet, natural oil sealers for the woodwork, and low voc paint finishes for the drywall. Some custom design elements include etched glass ceiling skylight panels, a tile mosaic wall in the kitchen, the stairway banister, the entry and interior doors, and the interior trim and cabinetry detailing.
Jeff Gold & Associates provided the architectural design and the construction management in cooperation with Erickson Construction Company for this custom residence, completed in 2002.